We will start our Shibari workshop weekend with a little get together on friday evening. Come join us at Moth to enjoy a warm friendly atmosphere, informal conversations about rope bondage and most of all: To enjoy the first official shibari performance in Jyväskylä!
Our teacher for the weekend, Ceci Ferox will introduce us the art of japanese rope bondage with their partner Tina Pornflakes.
The evening starts at 20:00 and performance time is around 20:30. Afterwards we have some "hangaround" time and studio closes at 22:00. Only 20 tickets available and you can reserve yours by emailing motti@studiomoth.net. Price is 10€ / ticket.
COVID-19 passport is required for participating in events.
Plenty of parking space in front.
You can bring your own drinks but please keep in mind that tolerance for intoxicated behaviour is very low. You will want to read our Code of Conduct before arriving to premises for the first time.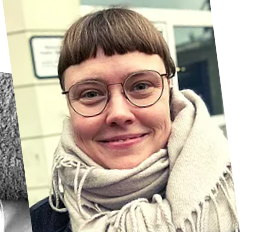 Ceci is a queer Berlin based sex therapist, kink activist, and rope nerd originally from Finland. They have been teaching japanese rope bondage internationally from top, bottom and switch perspectives since 2014.
Ceci likes to focus on elements of technique and communication rather than patterns and sequences. When teaching and organizing events, they draw on their expertise as a community educator to bring people together.
Performances have always been a part of Ceci's rope practice - they were on stage even before (2012) having any intimate rope sessions. Ceci's tying is influenced by traditional Japanese styles as well as contemporary western organic and artistic tying.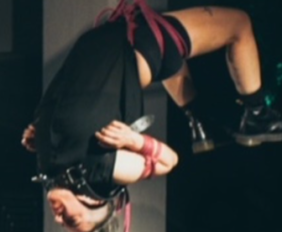 Tina Pornflakes is co-founder of the Queer-Crew Pornflakes in Milan and was actively involved in queer performance 1998-2012. A Berlin based non-binary dyke, Tina has been organizing queer spaces, exhibitions and installations as well as performing and DJing all over Europe. Tina got sucked into the deep end of rope bondage when she met Ceci in 2019 and the couple started tying together. Tina likes to break stereotypes in rope bondage.